Reading time: 7 minutes

B2B Telemarketing is truly scalable and can typically be adapted to support the vast majority of organisations with their sales & marketing requirements, whether that be running a small targeted niche campaign into a particular sector or alternatively, a multi-lingual large-scale EMEA campaign supporting multiple regions.
However, one of the most common question we get asked is, how much will it cost me?
This article will discuss the cost comparison of in-house vs outsourcing, and present a clear and unbiased view of the typical costs involved in running a telemarketing program internally, or externally through a professional agency.
The total cost will largely depend on what you want to achieve as well as the scale of operations. There are a number of factors to take into account including your ultimate sales revenue target, team size, the volume of your total addressable market, and the regions you wish to target. The number of qualified opportunities required to support your sales team needs to be factored in, the campaign duration as well as the amount of telemarketing resources required.

The table below highlights the most common cost factors to be considered when deciding to run your B2B telemarketing program internally or externally: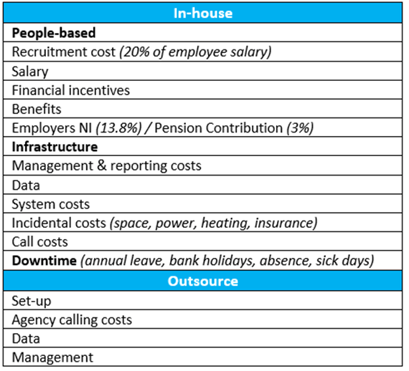 In-house costs:
1. People-based costs
The cost based around building your team is likely to be the highest, with salary ranking first. This can depend on the role, level of skills, qualifications, and previous experience of the personnel you are looking to hire, as well as the location your team will be based in. The average salary for a telemarketing agent in the South East (UK), according to Glassdoor, is approximately £34,585, with financial incentives coming up to an average of £11,236. National insurance (13.8%), pension contribution (3%), and benefits should also be taken into account.
The recruitment process typically takes an average of 42 days to complete, with onboarding taking around 90 days, to carry out complete training of company knowledge, products, and policies. If you are looking to recruit through an agency, it may cost up to 20% of the basic salary.

2. Infrastructure
costs
Having the correct, holistic infrastructure is key to implementing a successful B2B telemarketing program.

This includes your tech stack - a combination of technologies/software to be used - such as a CRM license (Salesforce), prospecting software (LinkedIn Sales Navigator), market intelligence software (Crunchbase), as well as physical hardware such as a phone, headset, laptop, desk, and chair.
A strong infrastructure also includes having accurate and recently updated data which would include further insights such as contract renewal dates, current suppliers, and more, as well as incidental factors such as office space, workstation, power, heating, insurance, etc. The cost of management, supervision, ongoing training, and monitoring should also be considered.
3. Downtime costs
Downtime can be an opportunity cost for many businesses, however, it is a necessary element to consider when creating your in-house team. This accounts for annual leave (25 days), public holidays (8 days), sick days, and absence (4.6 days average).
Outsourcing costs
1. Set up
The costs that would usually be encountered to set up your team and campaign, such as system costs, hardware costs, and incidental costs, can be avoided when you partner externally with a B2B Telemarketing firm, who have already been through the hassle of the set-up process several times and will highly likely already have everything needed to run the B2B Telemarketing campaign successfully.
Most telemarketing agencies will charge an initial onboarding/setup fee in order to fully set the campaign up, which will factor in internal training, data handling, report templates, and other general administrative tasks.

A typical setup for onboarding a new client can be between £1,000 - £2,000.
2. Data
Data costs can vary massively based on specific criteria but a good agency can provide you with a solid database containing both relevant target accounts and verified decision-maker contacts. As a rule of thumb, you may expect to pay £750 - £1,250 per 1,000 contact records for off-the-shelf verified data lists.
A good agency will have links not only to their own data but also to other industry sources where they can leverage the best quality data at the best prices.
Outsourcing saves you the time and hassle spent in acquiring, cleaning, and maintaining datasets, allowing you to instead focus your efforts on parts of the campaign that could benefit further from your expertise.
3. Telemarketing
When you outsource to an external B2B telemarketing agency, you are typically paying a fixed day rate for a dedicated calling resource. This rate will factor in all telemarketing-related costs including the agent themselves, call charges, and all associated management of the individual/team.

The industry cost is on average £300 – £350 per day of calling.
Estimated cost breakdown comparison for a 12-month campaign with 1 full-time employee: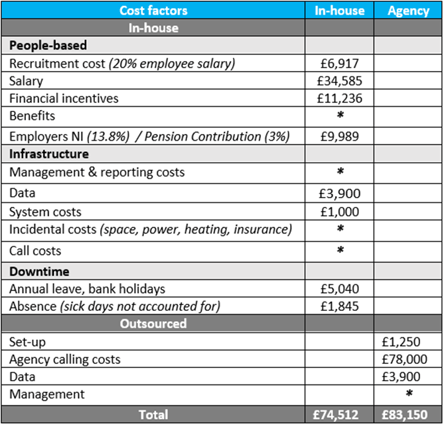 * These factors can vary greatly depending on individual situations and pre-agreements
After examining the comparison above, you will find that there is not a huge difference in overall cost. Both approaches have their benefits, assuming you retain your staff for the intended duration. However, the ROI can vary based on a number of factors, including the calibre of the management, resources, and supporting infrastructure available.
Should I source internally or externally?
With outsourcing, you are concentrating your financial investment on high-quality resources and personnel that should ultimately bring you a larger ROI. With what you pay for, you get years of industry experience and expertise to support you with bringing in a prospering sales pipeline, increased revenue, and wider outreach of brand, product, or event awareness to the market, along with numerous other benefits, without the hassle of having to set up, constantly monitor and deal with challenges.
If you are looking to source internally wholly and have enough time and capacity to set up your B2B telemarketing program while you figure out a system that works best, and can afford to wait for a longer period to see an ROI and campaign momentum, then this may be the best approach for you.

You may also consider a blended approach, which allows your internal team to focus on core competencies while you use external support when required for specific campaigns, overspills, covering downtime, particular language skill sets, etc. Once you have established a system that works best for you, you can then scale up or down accordingly.


If you would like to take the debate up further with us about in-house versus outsourcing costs and processes, reach out to us today.